Company Overview
Dragonfly Biosciences Ltd is a premium retailer of CBD, which is one of several cannabinoids extracted from the Cannabis Sativa plant. Using CBD as the main ingredient, Dragonfly specializes in producing and offering health and wellness/lifestyle products. Dragonfly both produces its own branded product and offers bulk and white label services.
The Company is poised for global growth by leveraging a highly successful proof of concept across Europe and the UK.
The Products
Dragonfly currently produces proprietary and bulk white label products, which include:
CBD Narrow spectrum oil/oral drops
The Narrow Spectrum range extracts Dragonfly CBD's organically grown Cannabis Sativa L. to create a 'super-distilled' CBD, which is smooth in taste & consistency. Dragonfly CBD Narrow Spectrum is the most popular CBD oil in its range and was voted the Best CBD Oil by Boots UK customers.
CBD Broad spectrum oil/oral drops
Derived from hand-crafted Cannabis Sativa L. extract, Broad Spectrum Dragonfly CBD Oil is a close reflection of the plant's natural complexity and is ideal for an experienced CBD Oil user.
CBD Skincare Range
CBD is an anti-inflammatory and antioxidant, which aids the reduction of cell stress and damage. Whilst popular as a food supplement, CBD can also be absorbed externally through the skin, lending its wide-ranging benefits to cosmetics.
Each of the above products are formulated in an EU-GMP pharma grade facility to ensure that they are formulated under EU-GMP protocols, in a consistent and standard labelling and packaging manner, and with a standard composition. Dragonfly intends to apply for EU-GMP accreditation for the facility in 2021.
Vertically Integrated Process
The Company's proposed business model will be to facilitate and accelerate the development of Dragonfly's production, research and sales of CBD and other hemp-based extracts and CBD products. At the core of the business is the range of wellness and beauty products including CBD oils and CBD skincare botanicals (the CBD Products), which the Company seeks to produce. Centred around the production of the CBD products, the business cycle comprises cultivation, production, research and development, manufacturing, and distribution.
Set out below is a diagrammatic overview of the Dragonfly business model.

Dragonfly aims to establish a competitive advantage by providing the market with quality and consistency based on established protocols from genetics, agriculture, cultivation, extraction, all the way through to formulation. The importance of vertical integration is a differentiator to support supply chain and to scale based on tested protocols and phytochemical footprint that underpins the integrity of all Dragonfly formulations.
Seeds
The Dragonfly business model is conducted across various countries with the journey for all Dragonfly products starts with quality high-yielding seed. The company only uses EU-certified and licensed seed supplied by the world's largest purveyor of EU approved cannabis seed varieties, IHEMPFARMS. IHEMPFARMS works exclusively with EU-registered hemp varieties, which are subject to the strict European Union rules for THC compliance.
Cultivation
Dragonfly's outdoor cultivation involves large-scale cultivation of cannabis plants on its own organically certified land located near Sofia in Bulgaria. Through its fully owned subsidiary Dragonfly Biosciences Bulgaria Ltd (Dragonfly Bulgaria), the Company has capacity to cultivate up to 950 ha of organically certified farming land to support expansion.
Since 2017, the Company has had a successful track record in cannabis cultivation and to date has not had a crop failure. The Company is an accredited vertical organic operation from soil to cultivation and extracts CBD utilizing its own large scale extraction facility and formulating in an EU-GMP certified manufacturing facility with their own extract that is refined and formulated with an organic hemp seed oil carrier.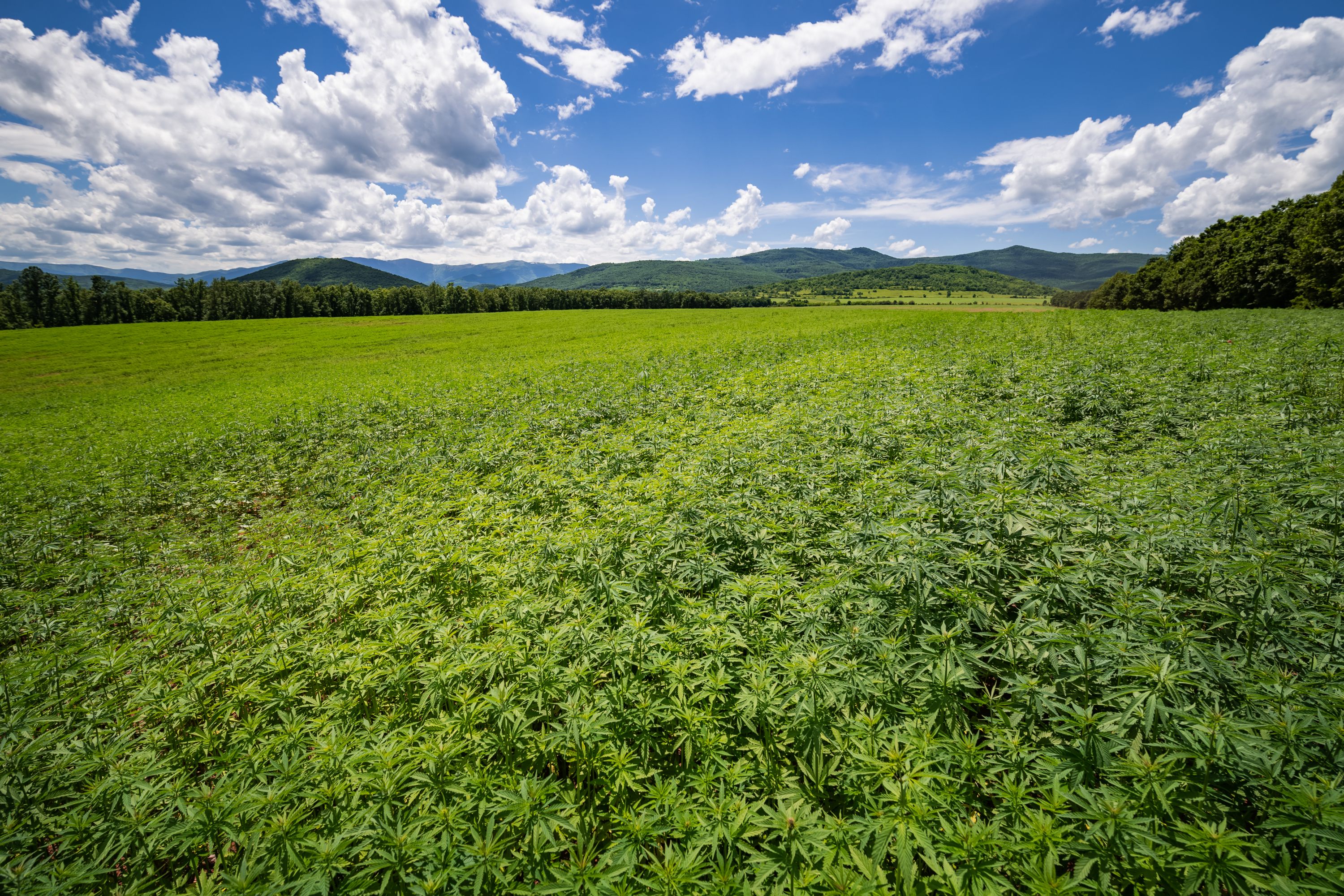 Extraction and Formulation
Dragonfly carries out extraction at its wholly owned dedicated modern CBD extraction facility in Romania. The facility is one of only a few large-scale extraction laboratories in the EU. It has separate biomass storage capacity of 350 square metres.
Dragonfly employs an ethanol (food grade) extraction method using the Company's own highly specialised High Performance Liquid Chromatography (HPLC) equipment. Adoption of this HPLC technology guarantees consistent high-quality CBD oil at the end of the extraction process. It also provides the Company with the flexibility to design and derive bespoke formulations including 'special batch' runs for wholesale and white-label customers.
Dragonfly has chosen to partner with one of Europe's largest and most experienced pharmaceutical manufacturers, Vetprom AD. Vetprom is an EU-GMP accredited manufacturer specialising in proprietary and outsourced (third party) manufacturing of medicinal products for human and veterinary purposes. They also produce food supplements and cosmetics.
Storage
Dragonfly currently has over 500,000 Kg of biomass stored securely from harvests of previous years. The Company considers that this amount is sufficient to support existing demand through to the end of 2022.
Sale of products
Each of the Dragonfly products are sold directly through Dragonfly's proprietary website shopping portal. The products are also available in several well-known high Street retailers across the United Kingdom including Tesco, Boots Pharmacies, Sainsbury's, and Harrods.
In January 2021, Dragonfly was approached by Amazon with an offer to be part of Amazon's CBD portfolio. All of Dragonfly's CBD products are available to buy on Amazon in the UK.
In July 2021, having established itself as an industry leader, Dragonfly was invited to become the first CBD brand to be allowed to sell their product range on eBay.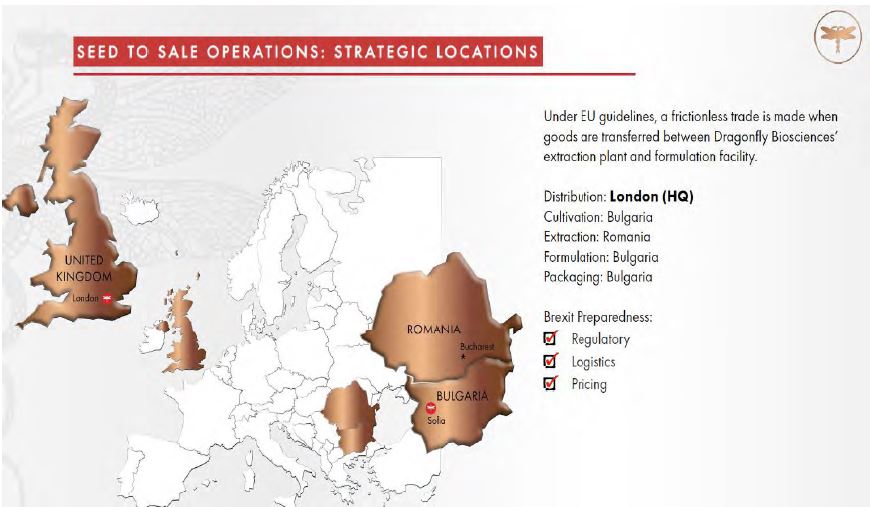 International Expansion
US market size in 2019 was US$ 4.1bn, forecasted to be US$ 15.9Bn by 2024 (Source: 2021 Statista). Australian legal cannabis market sales to date reach AUD$150m and are expected to reach AUD$200m by 31 December 2021. CBD was downgraded from Schedule 4 to Schedule 3 by the Therapeutic Goods Administration (TGA) in Feb 2021, providing access to Australians over the counter (OTC) with a prescription. There are 45,000 patients registered. According to the Australian Institute of Health, there are 600,000 Australians using cannabis for health reasons and only 3.9 % of those patients are registered with their physicians.
Dragonfly currently has representation in New Zealand, Australia, the United States and Europe and will expand its presence in these countries/regions. Dragonfly Ltd is also engaged in discussions with distribution partners in Germany, Norway and Sweden. As demand grows for CBD health supplements, Dragonfly Ltd seeks to be the go-to-producer and supplier of CBD for multi-channels to market that include both business to business and consumer channels.
Key Objectives
The Company's main objectives are:
expand UK retail partnerships to continue to position the Company to be the number one CBD brand in the UK whilst leveraging off the Company's existing distribution network to establish new retail partnerships in European Union, Asian, Australian and New Zealand markets;
achieve Novel food validation by the UK Food Standards Agency (FSA) and monetise early mover advantage;
build better brand awareness taking advantage of expected fewer brands post our FSA Novel food deadline; and
expand the white label/wholesale business line capitalising on Dragonfly's large scale extraction facility.