DC Power Co. offer is now closed.
Payments must be made by 5pm Monday 23rd April.
Due to overwhelming interest, retail investors can now invest up to $10,000 in DC Power Co.
Background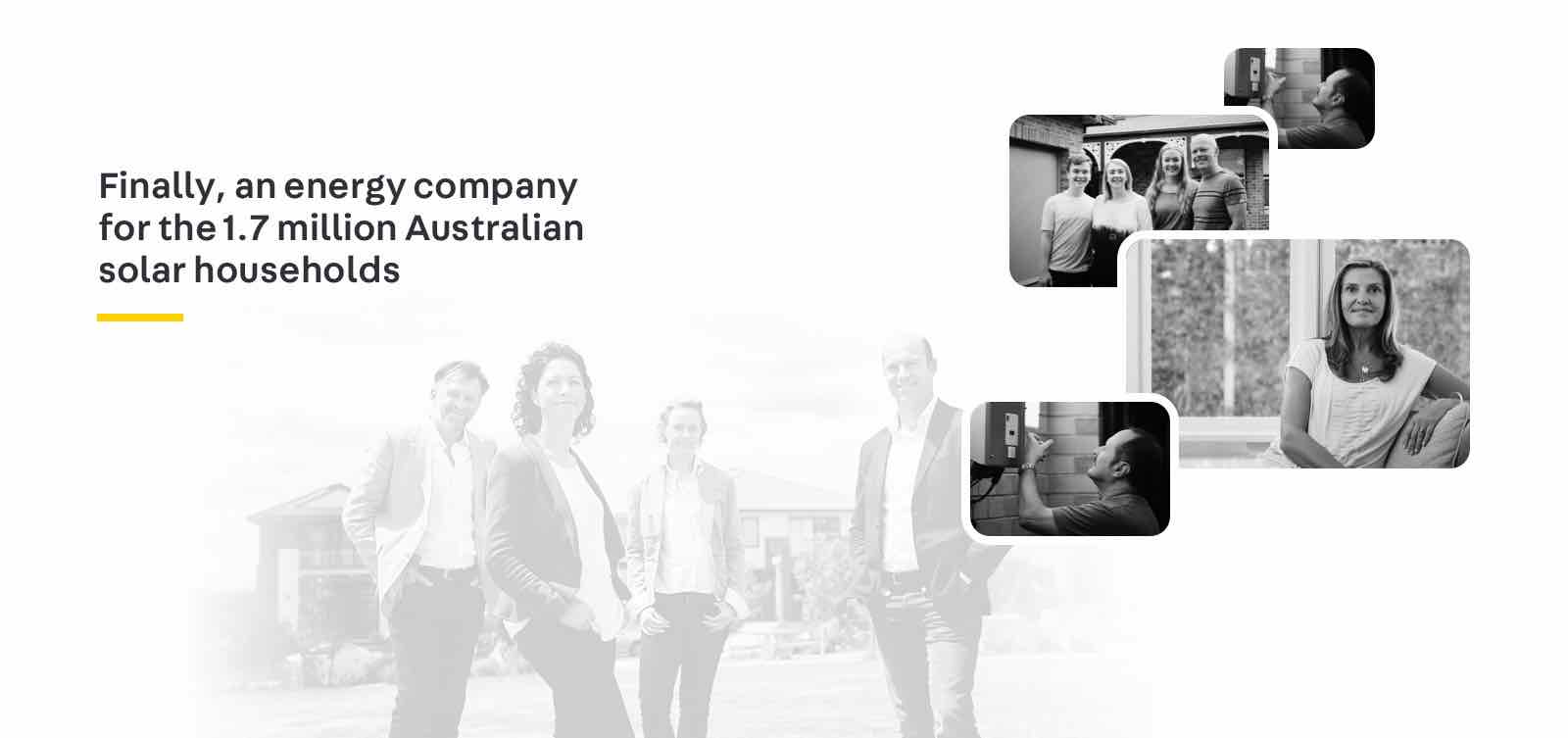 DC Power Co. aims at becoming the world's first crowd-sourced funded energy retailer for solar households. Unlike current energy retailers whose business models focus on selling households more energy, DC Power Co. is built by solar people, for solar people.
There are over 1.7 million Australian households with solar power. DC Power Co. intends to offer a range of services to Australian households to help them optimise their solar systems, use less energy, reduce their bills and make money.
It is DC Power Co.'s view that existing retailers aren't meeting these needs, and likely won't, even over the long term.
For an investment of $50 up to $10,000 for retail investors, this is an opportunity to own a part of a solar-focused energy services company that aims to revolutionise the energy industry in Australia. This investment is open to both solar and non-solar users.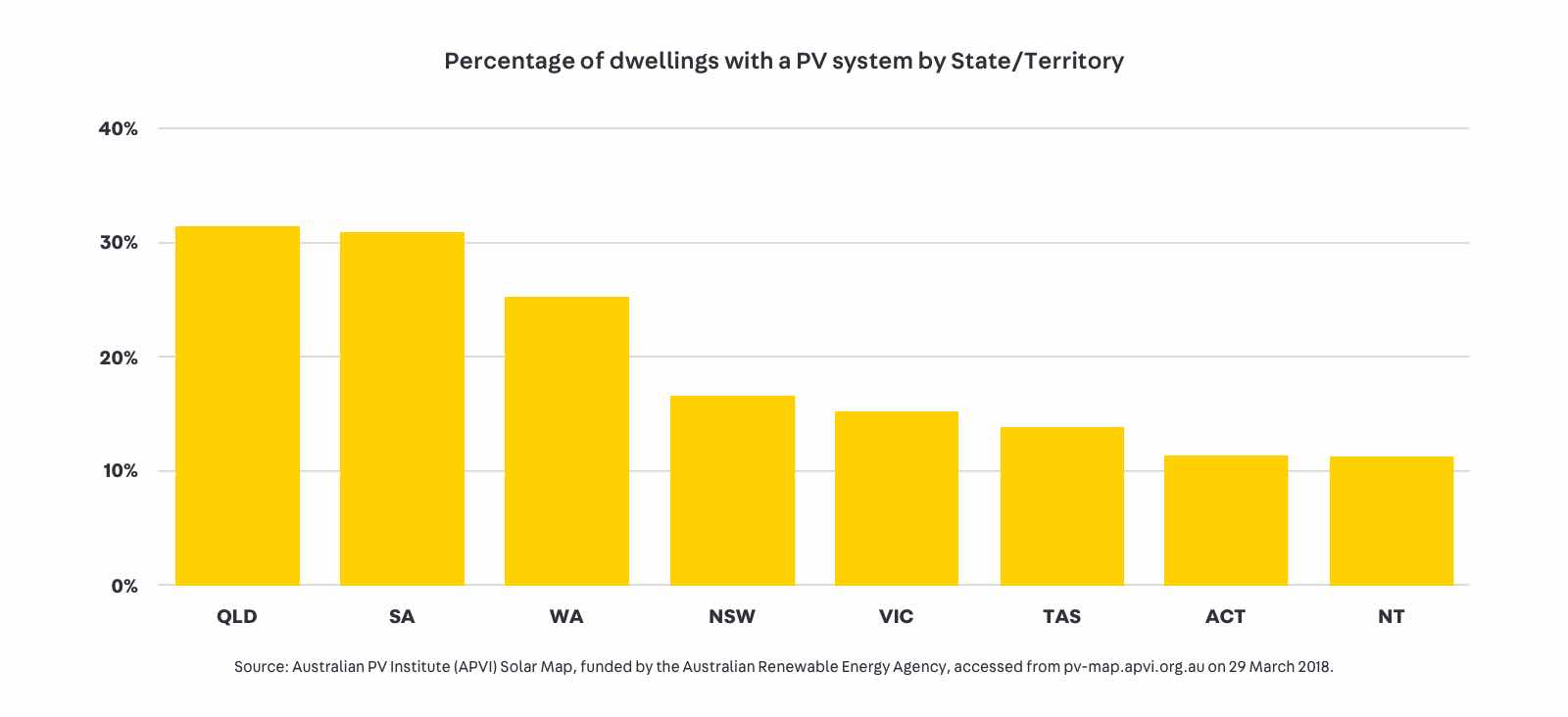 Business model
DC Power Co. intends to generate revenue through a monthly service fee and by providing additional services.
Monthly service fee
Unlike traditional energy companies, DC Power Co.'s profits won't be dependent on selling more energy to households.
Customers will be charged a reasonable monthly fee to provide the following solar-focused services;
Connection to the grid
Wholesale energy prices for grid energy top up
A fair feed-in tariff for any excess solar generated
Advice on optimising their solar system and usage
Regular maintenance tips
Insights into when it will make sense to purchase a battery or other home energy devices.
Additional services
DC Power Co. intends to offer additional energy services focused on the needs of solar households, such as:
Monitoring and maintenance packages for current solar panels to achieve and maintain optimal performance
Solar panel installations for those customers who don't already have solar panels
Solar panel upgrades for customers with older panels or systems that are not maximising energy generation
Battery installations to best utilise the energy the solar panels generate
Smart and innovative home solutions that will enable members to remotely automate the operation of air conditioners, pool pumps and other high usage devices to boost savings.
DC Power Co. also intends to keep innovating and helping its customers evaluate new technologies such as electric vehicles and charging options in the future.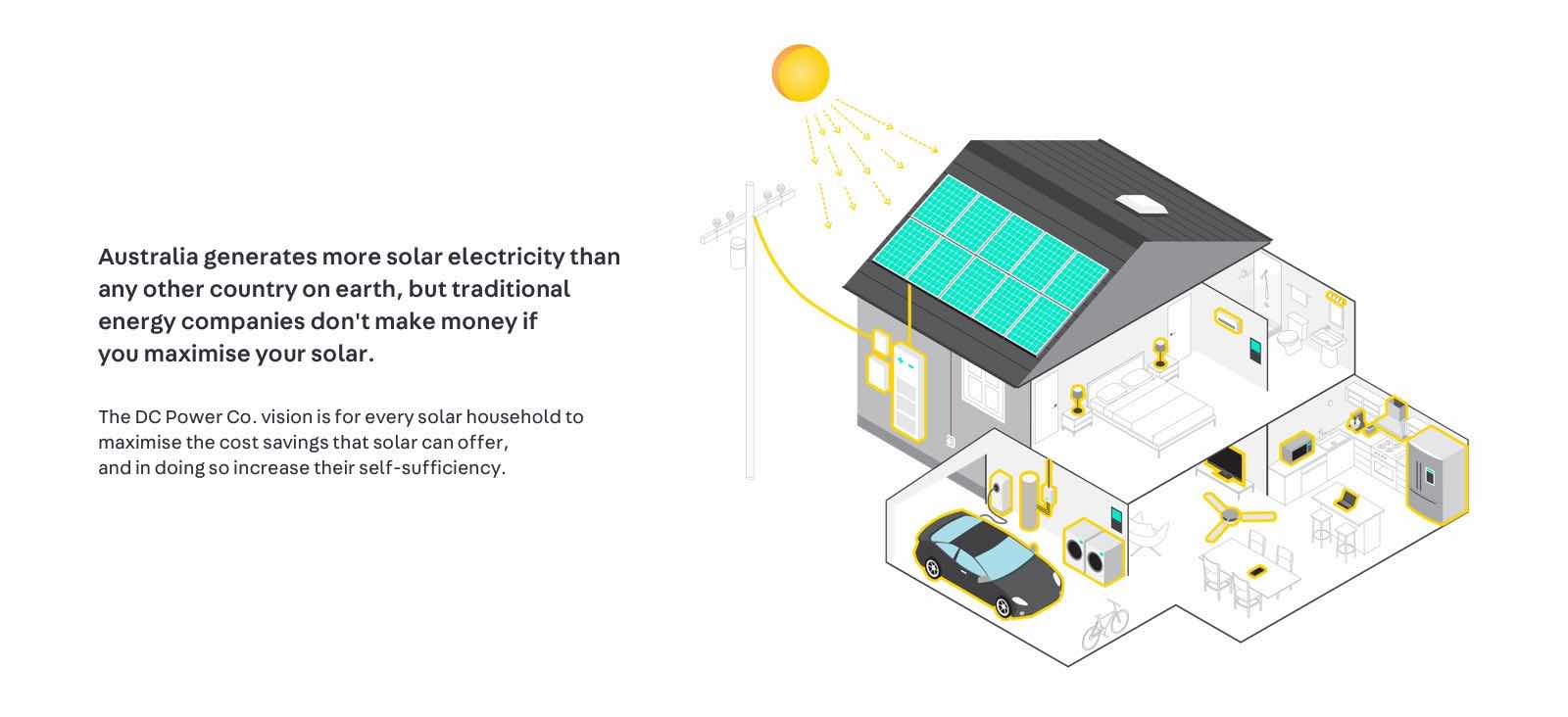 Savings Guarantee
DC Power Co. intends to offer a Savings Guarantee to eligible customers. These customers are guaranteed to save money on their energy bills (compared to what they paid with their previous energy provider) or DC Power Co. will refund the difference plus 10%. DC Power Co. is making this commitment because they are confident that solar customers will be better off with them.
For more information on our Savings Guarantee see page 10 of the Replacement Offer Document.
Phases of Growth
DC Power Co. has a clear plan to achieve its goal of becoming the energy services company of the future.

Offer Overview
DC Power Co. aims to raise up to $4.75 million in this offer. Here are the key details relating to the offer:
You can invest as little as $50, which will give you 100 shares in DC Power Co., up to a maximum of $10,000 i.e. for 20,000 shares
DC Power Co. needs to raise at least $1.75 million in order for this campaign to be successful
The preferred outcome is that as many investors take part in the Offer as possible – more investors means more potential customers which will help DC Power Co. achieve its goals of providing the best solar services to its customers
It is important to note that if the Company doesn't raise $1.75 million, the crowd-sourced funding campaign will not go ahead and your investment will be refunded.
Investor Benefits
DC Power Co. will endeavour to provide its investors with the following benefits:
Investor rights and representation – you will own ordinary shares, have the ability to vote, and be represented by someone investing in this crowd-sourced offer on the board. Any investor in this offer can nominate for this role.
Access to a free insights package regardless of your current energy provider, giving you information about the health of your solar power system.
Priority access to become a DC Power Co. customer and receive exclusive launch offerings.
Future dividends and capital growth if DC Power Co. is able to achieve its goals. This is not guaranteed as it depends on the future profitability of the company and board discretion to issue dividends.
Updates on progress in becoming Australia's first energy retailer for solar households.
Risks
Investors should note that DC Power Co. is an early stage company and is subject to a range of risks. While the Company has a clear mitigation strategy to deal with potential risks, investors should understand the following before deciding whether to invest:
Building the business – DC Power Co. might not be able to create an energy retailer if it is unable to demonstrate its value proposition and achieve commercial success.
Regulatory risk – DC Power Co. might not receive regulatory approval to operate as an electricity retailer in Australia.
Funding risk – DC Power Co. might not raise sufficient funding to achieve its business goals.
Savings Guarantee risk
– external prices and competitive forces may require DC Power Co. to pass on costs and pay out the Savings Guarantee, reducing profits
People risk
– Key people might leave the business, or new people might not follow policies and procedures.
Competition risk
– DC Power Co. will be competing in a highly competitive environment where other players might seek to win or retain customers.
For a full explanation of the risks and mitigation strategies, please refer to section 2.6 of the Replacement Offer document.
Founders and Management
The DC Power Co. leadership team is passionate about solar power and empowering home generators to get a better deal. They all have huge amounts of experience in the field and are focused on making DC Power Co. a success.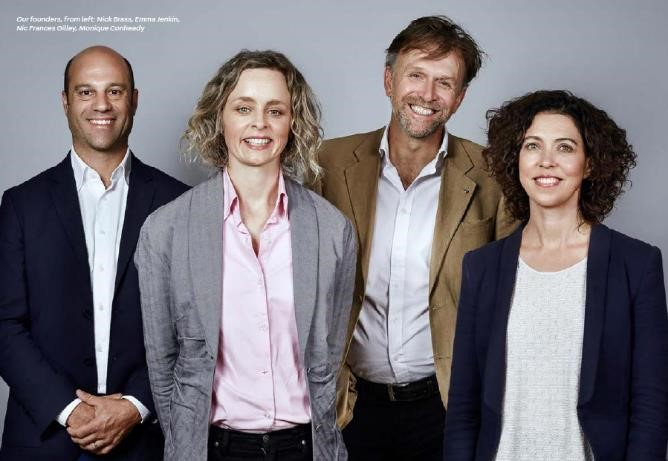 Nic Frances Gilley MBE - CEO & Chairperson
Nic is a social entrepreneur, marketing campaign specialist and founder of environmentally focused start ups, Easy Being Green and Cool nrg. Nic is responsible for the strategy, delivery and risk management for DC Power Co.
Emma Jenkin – Chief Financial Officer
Emma is an ex-commodity trader, investment banker and key member of energy saving company Cool nrg. She is responsible for overseeing the organisation's finances and capital raisings.
Nick Brass – Energy & Partnerships
Nick is a solar expert, co-founder of Energy Matters, and driving force of Cool nrg. Having facilitated some of the country's largest commercial and industrial solar plants, he will be responsible for DC Power Co.'s strategy and delivery of additional products and services excluding electricity retail.
Monique Conheady – Director & Marketing
Founder of car sharing disruptor Flexicar, ex-leader of Hertz' marketing team and serial board member of socially and environmentally focused companies, Monique will sit on the board of DC Power Co. and oversee brand marketing and customer experience.
IMPORTANT: Please read the below information before investing in this Equity Crowdfunding offer.
RISK WARNING: Crowd-sourced funding is risky. Issuers using this facility include new or rapidly growing ventures. Investment in these types of ventures is speculative and carries high risks. You may lose your entire investment, and you should be in a position to bear this risk without undue hardship. Even if the company is successful, the value of your investment and any return on the investment could be reduced if the company issues more shares. Your investment is unlikely to be liquid. This means you are unlikely to be able to sell your shares quickly or at all if you need the money or decide that this investment is not right for you.
Even though you have remedies for misleading statements in the replacement offer document or misconduct by the company, you may have difficulty recovering your money. There are rules for handling your money. However, if your money is handled inappropriately or the person operating this platform becomes insolvent, you may have difficulty recovering your money. Ask questions, read all information given carefully, and seek independent financial advice before committing yourself to any investment.
NEW INVESTORS - 5 DAY COOLING OFF PERIOD: There is a 5 business day cooling off period for retail investors. During this period, you may withdraw your application and receive a full refund into your nominated refund account. More information here.
PRIOR TO 26 MARCH 2018 INVESTORS – 30 DAY COOLING OFF PERIOD: If you invested in DC Power Co. before the replacement offer document was issued on 26 March 2018, there is a 30 day cooling off period for retail investors. During this period, you may withdraw your application and receive a full refund into your nominated refund account. More information here.
ONMARKET FEES: Upon successful completion of the Offer, a maximum fee of 6.5% of the funds raised will be paid to OnMarket by the Company.
ONMARKET INTERESTS AND AMOUNTS SUBJECT TO COOLING OFF: The funding bar displayed under each crowd funding offer may include applications where payments are yet to be made and amounts that are subject to the cooling off period. OnMarket staff will be participating in this offer.
Section 734(6) disclosure: The issuer of the securities is DCP Company Limited ACN 619 866 072. The securities to be issued are ordinary shares. The disclosure document for the offer can be obtained by clicking on the link above. The offers of the securities are made in, or accompanied by, a copy of the disclosure document. Investors should consider the disclosure document in deciding whether to acquire the securities. Anyone who wants to acquire the securities will need to complete the application form that will be in or will accompany the disclosure document (which can be done via the electronic application form which will become available by clicking the bid button above).​
The offer close and the 'Pay By' dates may change. Duplicate bids under the same investment profile or investor name may be cancelled.