The CommsChoice Group IPO has closed early via OnMarket. Payment must be made by 5pm Wednesday 13th December (AEST).
Bids over $5,000 may be scaled back more heavily, and we cannot guarantee that all funded bids will receive an allocation.
CommsChoice Group Limited (ASX: CCG) provides clients with a range of integrated solutions to meet their clients' information and communications technology (ICT) requirements. Their products and services are critical to the efficient business operations of almost 3,000 enterprise and business clients in Australia, New Zealand, Singapore and internationally.
With over 50 staff across offices in Sydney, Melbourne, the Philippines and Singapore, the Company provides selection, procurement, implementation and management of over 400 vendor‑neutral products and services. CommsChoice aims to provide a majority of its clients with a one-stop-shop for all their ICT needs.
The Company's business model is focussed on the delivery of managed ICT products and services under contract to their clients. Consolidated pro-forma revenues were $20.1 million in FY2017, and are forecast to increase to $27.8 million in CY2018.
CommsChoice Group global presence
Offer Overview
The $7.5m IPO is fully underwritten by Baillieu Holst Ltd, and post listing the Company will have a market capitalisation of $25.7 million. The Board intends to target an annual dividend payout ratio of 30% to 60% of NPAT.
The purpose of the offer includes; the cash component of the acquisition of the businesses forming part of CommsChoice Group, to provide a platform for CommsChoice to pursue its growth plans, fund working capital and pay the costs associated with the Offer.
Market Opportunity
The total addressable Enterprise and Business ICT markets (ICT solutions and managed services) for CommsChoice in Australia, New Zealand and Singapore was estimated at $54.37 billion in 2016, and is estimated to increase to $92.30 billion by 2022 (a CAGR of 9.2%). This growth is expected to be driven by increased sophistication of technology infrastructure, and growth in internet traffic, cloud computing and VoIP usage. See the Frost & Sullivan report in the Prospectus for more information.
Enterprise and Business ICT Solutions and Managed Services Market in Australia, New Zealand and Singapore, 2016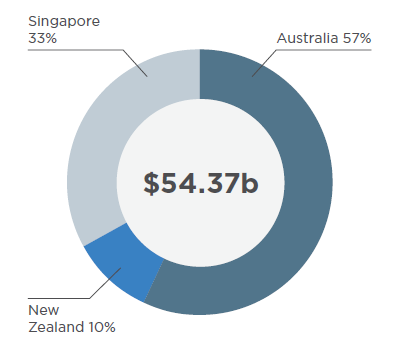 Source: Frost & Sullivan
Products and Services
CommsChoice uses their proprietary Adaptive Connectivity as a Service (ACaaS) delivery platform to provide advanced solutions aimed at enabling clients to improve business performance and agility of their communications and technology operations and to unlock cost savings and minimise expenses. By operating a vendor agnostic model, they seek to offer clients an unbiased, best available, ICT solution that removes any conflict associated with being the owner of the carrier network infrastructure.
ICT products and services offered by CommsChoice are grouped into:
CommsAssure Quality Voice and Data which focuses on the seamless integration of high quality managed data and voice solutions
CommsMobilise Total Mobility Management which focuses on the secure and predictable access to ICT products and services, anywhere and anytime on any device
CommsConnect Advanced Communications which is focused on the harmonious unification of Cloud and software for ICT connectivity
Revenue Strategy
CommsChoice derives the majority of its revenue through contracted, annuity style service delivery. The Company also generates revenue from service implementation including consulting, licensing, hardware, installation and project management services.
CommsChoice aims to align its interests with its clients and ensures a clear focus on delivering strong business outcomes by generating a third stream of revenue through a share of the savings made to the client's cost base against the incumbent service cost.
On a pro forma basis, the entities comprising CommsChoice Group generated approximately $20.1 million of revenue and $817,000 of NPATA in FY17, a CAGR of 24.1% from FY15. The Company is forecasting Revenue of $27.83 million, EBIT of $3.42 million and NPATA of $3.38 million in CY18.
Pro Forma FY17 and CY18F revenue mix and gross profit margin by operating division

Management and Board
The board and senior management include industry thought-leaders who have an average of more than 20 years' experience in the ICT industry. Key personnel include:
John Mackay, Independent Non‑Executive Chairman, has over 15 years' experience as a Chairman and Director of companies in the communications and utilities sectors, and has been Chairman of Speedcast International since 2014.
Peter McGrath, independent Non‑Executive Director, has over 30 years' experience across a variety of banking and telecommunications roles, including being former CEO of Nextgen.
Ben Gilbert, CEO, has over 25 years' experience in corporate finance and strategy roles including 15 years in the telecommunications industry including leadership positions at Singtel‑Optus, AGL, Sinclair Knight Merz.
Grant Ellison, Executive Director and Executive General Manger, has over 25 years' experience in senior strategy and multinational business development roles in the ICT, manufacturing and banking sectors.
As set out in Section 5 of the Prospectus, CommsChoice Group Limited is subject to a range of risks, including but not limited to competitive landscape, failure to retain and expand client relationships, intellectual property, disruption or failure of technology systems and the ACaaS delivery platform is not protected through any registered patent.
Section 734(6) disclosure: The issuer of the securities is CommsChoice Group Limited ACN 619 196 539. The securities to be issued are ordinary shares. The disclosure document for the offer can be obtained by clicking on the link above. The offers of the securities are made in, or accompanied by, a copy of the disclosure document. Investors should consider the disclosure document in deciding whether to acquire the securities. Anyone who wants to acquire the securities will need to complete the application form that will be in or will accompany the disclosure document (which can be done via the electronic application form which will become available by clicking the bid button above).​
OnMarket has a limited allocation. The offer may close early and the 'Pay By' date may change. Bids over $5,000 may be scaled back more heavily. Duplicate bids under the same investment profile, investor name or residential address may be cancelled.