Update: IPO closing early via OnMarket. Bids and payments must be completed by 5pm toaday (Tueday 18 December) (AEDT) to avoid missing out.
Introduction
Candy Club Holdings Ltd (ASX: CLB) sells confectionery products direct to consumers through monthly subscription plans (the B2C Business) and to specialty market retailers (the B2B Business) through its operating subsidiary Candy Club LLC, a company incorporated in California, USA (CCL). Candy Club is headquartered in Los Angeles and currently only makes its products available to customers in 48 states of the USA.
Candy Club is able to utilise the data about preferences of subscribers under the B2C Business gathered on its online subscription platform to track shifts in consumer behaviour, to understand what subscribers prefer in real-time, facilitating product and supplier management and minimising stock wastage and can then sell the popular confectionery products through promotional partners and under-served speciality outlets as part of the B2B Business, thereby increasing consumer recognition of the Candy Club brand.
Investment highlights
Operates in US confectionary industry with a large addressable market of US$35B in 2017
Founder & CEO, Keith Cohn, has 20 years of consumer industry experience, including Vendare Media, which he founded and built into a business with over A$200M in revenue
Experienced board, comprising notable early stage investors in the Company with successful track records as investors and operators of prominent Australian and international companies
Backed by highly experienced seed and cornerstone investors
Proven direct-to-consumer (D2C) subscription business segment generating ~A$11M revenue in CY17, well positioned for further scale
Business-to-business (B2B) business segment showing strong early traction selling product to approximately 150 unique specialty market retailers representing 500 retail locations
Omnichannel model aims to drive retail purchases in the B2B business segment to become subscribers for the B2C business segment
Enterprise value of less than 2x historical revenue, with strong growth potential
IPO lead managed by Peak Asset Management
Offer overview
Candy Club Holdings Ltd is looking to raise between $4.5 million and $8 million with the ability to accept an extra $2 million in oversubscriptions and will have an estimated market capitalisation of $32.9 million at maximum subscription.
The proceeds from the Offer will be used to:
increase sales and marketing initiatives in USA for the online subscriptions of the Candy Boxes under the B2C Business and for the Candy Club Branded Confectionery under the B2B Business;
automate the Company's assembly and fulfilment line processes where purchased confectionery is repackaged as Candy Club Branded Confectionery and where the Candy Boxes are sorted and assembled;
implement an enterprise resource plan and appropriate computing software in order to facilitate the management of the Company's business finances, operations and customers relations;
expand inventory holdings of Candy Club Branded Confectionery and developing the Company's own proprietary candy formulations; and
fees associated with the listing of the Company and Official Quotation of the Offer Shares.
The Business
Procurement and Packaging
The Company purchases confectionery from various manufacturers based in USA and Europe which the Company rebrands and repackages with the Company's own branding (Candy Club Branded Confectionery). Confectionery purchased for the Candy Club Business is delivered directly to and stored at warehouses operated by a third party logistics company (Fulfilment Company) in Indiana and Utah, USA. The Company outsources the repackaging function to the Fulfilment Company which also coordinates the delivery of the final products to the respective customers. The confectionery is first repackaged as Candy Club Branded Confectionery, which may then be sold directly as part of the B2B Business.
The Fulfilment Company also assists with sorting the Candy Club Branded Confectionery into boxes containing up to six varieties of the Candy Club Branded Confectionery (Candy Boxes), which are sold as part of the B2C Business.
Pictured below are the Candy Club Branded Confectionery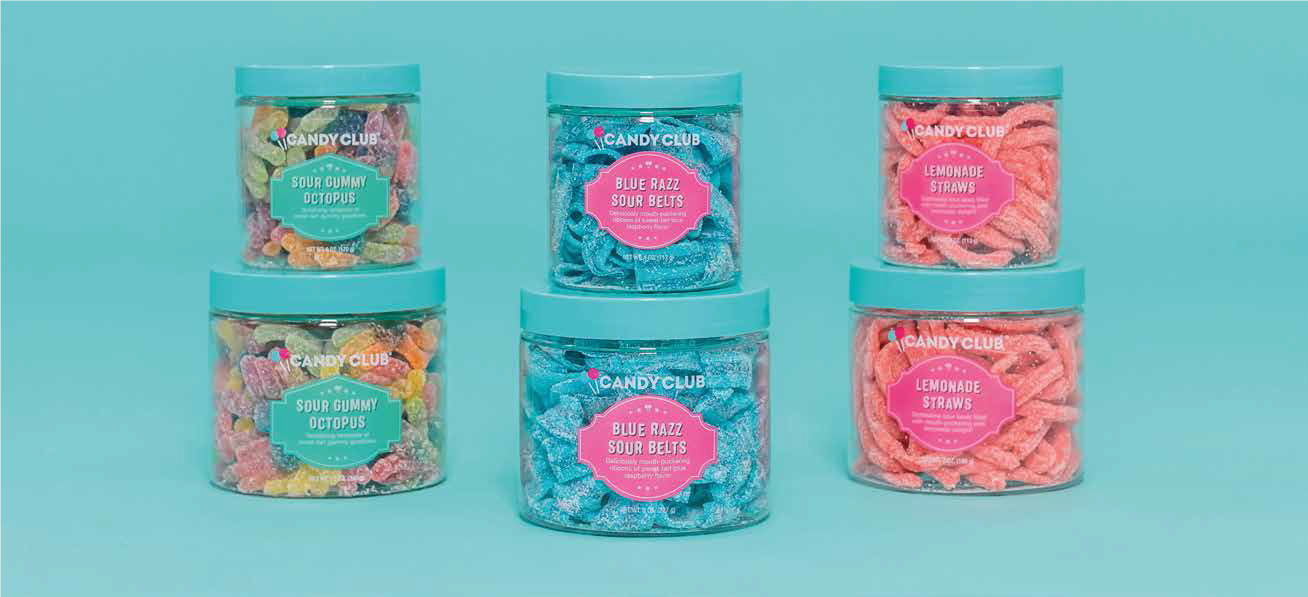 B2C Business
In 2015, Candy Club commenced selling monthly subscriptions of Candy Club Branded Confectionery to consumers throughout the USA. Consumers who purchase subscriptions via the Candy Club Group's website receive a package containing up to six varieties of confectionery each month (Candy Boxes).

While subscriber numbers fluctuate, the Company estimates that there were between approximately 15,000 and 20,000 subscribers during any given month in 2018.
The Company is piloting selling subscriptions of the Candy Boxes through a major online retailer, which offers subscription plans for a variety of digital and physical products to its customers. Candy Club started selling subscriptions for the Candy Boxes through this online retailer in September 2018.
B2B Business
In mid-2018, Candy Club started selling the Candy Club Branded Confectionery contained in the Candy Boxes to specialty market retailers in the USA, including retailers operating in the hospitality, retail fashion, gift and e-commerce industries. The specialty market retailers purchase the Candy Club Branded Confectionery in bulk based on consumer demand which are sold in their physical or online stores together with their core products. Since the launch of the B2B Business, the Company has sold product to approximately 150 unique specialty market retailers representing 500 retail locations. Over 50% of total sales recorded to date under the B2B Business have been received as repeat orders from specialty market retailers. Pictured below are the Candy Boxes: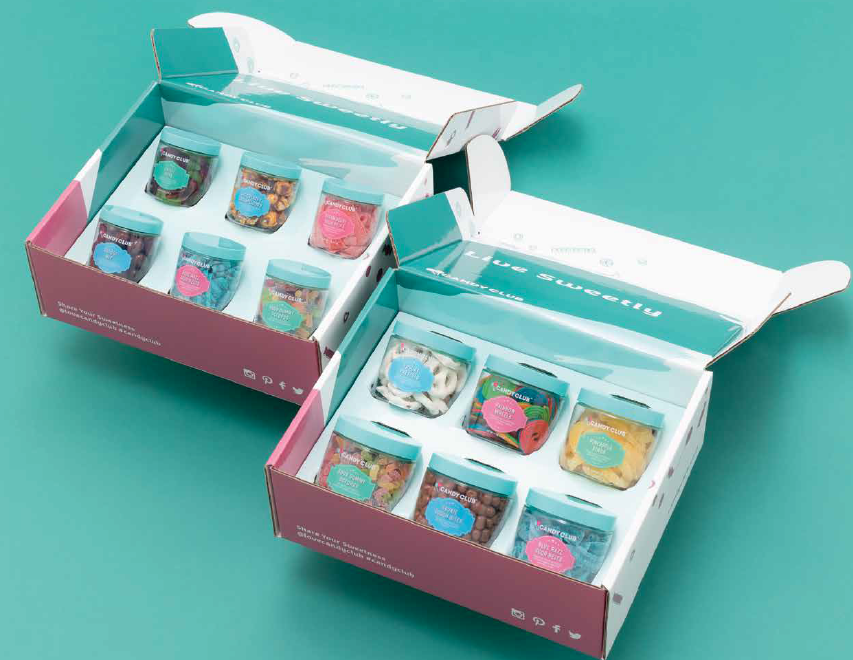 Revenue model
The Company generates income through:
the B2C Business, under which the Company sells subscriptions plans for the Candy Boxes, which are delivered to subscribers monthly and contain up to six varieties of Candy Club Branded Confectionery; and
the B2B Business, under which the Company sells the Candy Club Branded Confectionery to specialty market resellers in bulk.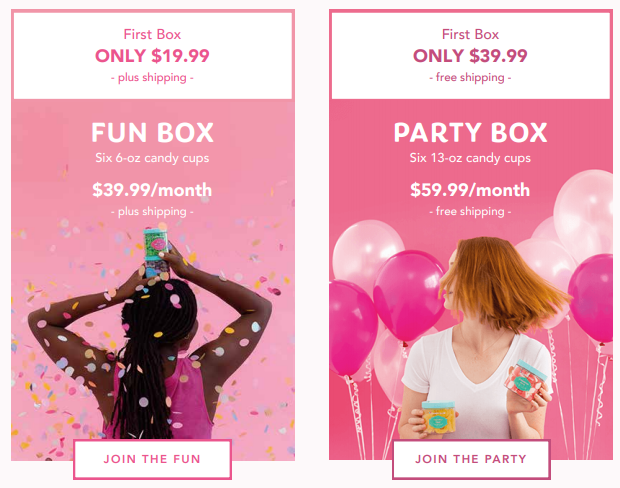 Industry Overview
Subscription Services
The Candy Club Group's operations have historically been based on a subscription retail business model, where individuals located in the USA can subscribe for monthly shipments of confectionery, based on a variety of plan types.
Subscription boxes are becoming an increasingly popular method of purchasing products online, with 15% of e-commerce shoppers estimated to have purchased a subscription for subscription boxes in the 12 months to November 2017. During Q1 2018, it was estimated that 18.5 million Americans visited at least one website offering subscription boxes, representing a 24% year-on-year increase.
Confectionery
The chocolate, sugar and gum categories have each experienced growth in 2017, delivering a 3.6% gain for the global confectionery industry in 2017. Total sales in the USA confectionery industry were US $35 billion in 2017, with the biggest growth category experienced in sugar confectionery which experienced a 3.9% increase in sales from 2016. The USA National Confectioner's Association, an industry body for the USA confectionery industry, reports that in the USA, confectionery sales increased 1.8% in 2017, up from a growth of 1.2% in 2016, with non-chocolate sales (such as confectionery) leading growth.
The USA is by far the largest confectionery market in the world, accounting for more than 75% of the global confectionery volume share. Household penetration of confectionery was 97.2% in 2017, with the average US household purchasing confectionery 17.4 times per year. The average customer consumes confectionery two to three times a week, with 90% of USA consumers giving confectionery as a gift.
Management and Board
Candy Club Holdings Ltd Board is constituted of directors who have extensive skills and experience in both business operations and governance. The Board has a broad base of experience covering operational, technical, corporate and commercial backgrounds, spanning a number of decades and across a range of different industries. These include:
Mr Robert Hines, Director, held a number of Board positions since 2001, including Chairman of Genetraks Ltd, Group Chairman of the CEO Circle, executive director of VeCommerce Ltd and non-executive director of Sportsbet Pty Ltd.
Keith Cohn, Director and Founder, has over 20 years of consumer industry experience and has held various executive marketing roles in the industry. Keith co-founded Vendare Media, a digital marketing enterprise, growing it from pre-revenue to approximately $200 million in annual sales. He also founded Bardon Advisors, a digital marketing company focused on high-value search engine marketing, and remained as CEO until it was acquired in 2010 in a deal valued at $30 million.
Zachry Rosenberg, Director, is the Founding Partner of Capital Zed, a private growth capital investor based out of Melbourne, Australia, with significant minority investments in Australia, New Zealand, the USA, Hong Kong and the United Kingdom.
Chi Kan Tang, Director, Kan is the founding partner of Asia Summit Capital, a private equity firm established in 2014, focused on consumer growth and the technology sector in Indonesia and Southeast Asia.
James Baillieu, Director, previously served as Senior Vice President of Business Development at Aconex Limited (ASX:ACX) and was an early investor in and consultant to Aconex Limited. James spent more than seven years as a consultant with McKinsey & Co, assisting businesses in Australia and internationally with strategy and operational improvement. James is currently Non-Executive Chairman of BidEnergy Limited (ASX:BID)
Risks
You are encouraged to read the Prospectus carefully as it contains detailed information about the Company and the Offer. Like all investments, an investment in the Company carries risk. As set out in Section 6 of the prospectus, Candy Club Holdings Ltd is subject to a range of risks, including but not limited to insufficient products to meet demand, customer acquisition costs, food safety and hygiene, supply of confectionery and privacy and data risks.
Section 734(6) disclosure: The issuer of the securities is Candy Club Holdings Limited ACN 629 598 778. The securities to be issued are ordinary shares. The disclosure document for the offer can be obtained by clicking on the link above. The offers of the securities are made in, or accompanied by, a copy of the disclosure document. Investors should consider the disclosure document in deciding whether to acquire the securities. Anyone who wants to acquire the securities will need to complete the application form that will be in or will accompany the disclosure document (which can be done via the electronic application form which will become available by clicking the bid button above).​
Allocation Methadology
OnMarket has a limited allocation. The offer may close early and the 'Pay By' dates may change. Bids over $5,000 may be scaled back more heavily. Duplicate bids under the same investment profile, investor name or residential address may be cancelled.​
.