Overview
SMEs are typically faced with excessive costs and lack of expertise to secure the loyalty of their customers. Brewarded Group's platform provides a loyalty program to the more than 2 million SMEs operating in Australia. With 9 in 10 eligible Australians belonging to a loyalty program, the company is targeting large markets. In addition, the innovative points4purpose program allows customers to donate unredeemed points to over 2,500 charities. It's estimated there are over $10b unredeemed points in Australia alone.
Highlights
Fully built rewards platform with national and international scalability through mobile and white label streams
Targeting large markets with 9 in 10 eligible Australians owning an eligible rewards card and belonging to a loyalty program
Strong value proposition by providing businesses with a customer engagement tool and rewarding loyal customers with better deals
Highly experienced team in the development and deployment of rewards programs, both B2C and B2B
Comprehensive range of options to earn and redeem points for cash equivalents, product donations and social causes through points4purpose charity stream
Strategic Partnership agreement with everydayhero to manage transactions to more than 2,500 social causes
Agreement with Mastercard Loyalty Solutions and registration on its worldwide supplier platform
Liquidity Business Solutions line of credit solution developed providing trade finance to SMEs for much needed working capital
Introduction
BRewarded Group has developed an innovative rewards platform (BR platform) aimed at improving the lifetime value of customers. By bringing BRewarded Pty Ltd and Imagine Corporation Pty Ltd together under the central holding company, BRewarded Group Pty Ltd are now able to take full advantage of the combined platform and capitalise on the synergies derived through a common infrastructure.
SME's are typically faced with excessive costs and lack of expertise to secure the loyalty of their customers. BRewarded Group fills a gap left by big business in offering SME businesses a cost effective rewards solution designed to: retain existing customers, attract new customers, grow revenue, track information and improve leverage with suppliers.
The BR platform points also enables points to be redeemed/donated to a charity of the choice of the donor through points4purpose, a social exchange platform enabling participation by over 2,500 charities and causes set to benefit from the billions of dollars of unredeemed points in the market. Donations are tax deductible where the charity has a deductible gift recipient status.
Following the recent restructure and development, the BRewarded web-based rewards platform is ready to scale as well as offer white label capability.
Market Opportunity
Mastercard research has found that 9 out of 10 eligible Australians have a rewards card in their possession and most have joined more than 6 rewards memberships. Mastercard also found that 62% of Australians felt their rewards programs influenced how they shopped and yet 40% of those surveyed were unhappy with their credit card rewards.
BRewarded sees this as an opportunity to expand and improve the shopping experience and also lift returns to businesses utilising the BR platform.
The Problem for SME's
Many SME's are challenged every day with the costs and know-how to secure the loyalty of their customers and in, so doing, extend their lifetime value. While around 90% of Australians are enrolled in at least one rewards program and 64% of Australians endorse the use of rewards programs, sophisticated use of rewards programs by SMEs across retail and the services sector remains limited, and this is precisely the gap envisaged for the BR platform. The SME market is currently estimated at over 2 million businesses which represents a huge opportunity for the cost effective BR platform solution.
points4purpose and the Charity Market
According to Colloquy (2017), a source of global loyalty insights, 48 trillion reward points worth US$360 billion sleep in the customer accounts across the globe. These are the reward points that are accumulated by consumers like us, who subscribe to different memberships and have not been redeemed.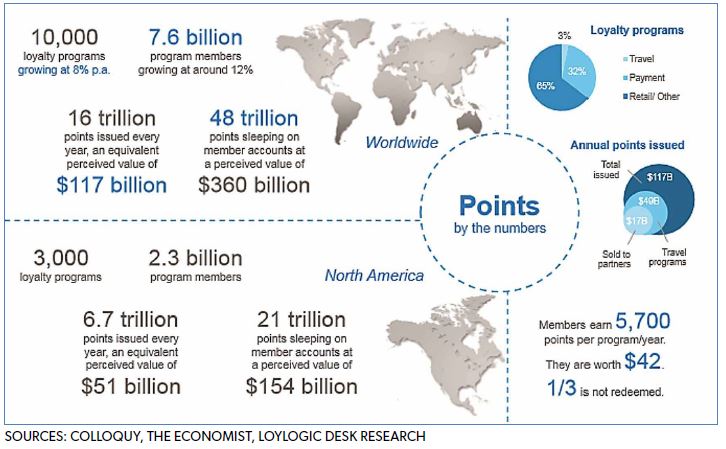 In 2016, 14.9 million Australians donated $12.5 billion and businesses made donations exceeding over $17 billion to social causes. There are over 55,000 registered charities in Australia all vying for new effective fundraising sources. Research shows that more than a quarter of rewards program members would donate their points to causes and community initiatives if given the chance. The BR platform provides this opportunity.
We believe that these donations can be increased by adopting the simple points4purpose donation process for redemption of unredeemed points.
Traction
100+ redemption partners
Access to over 2,500 charities and causes with 3 million + registered supporters
Corporate customers including Virgin Velocity, Westpac and CBA
Partnership agreement with everydayhero, a subsidiary of US listed Blackbaud
Agreement with Mastercard Loyalty Service to manage/promote points4purpose digital vouchers to their managed clients
Agreement with Digital Glue, subsidiary of US listed Blackhawk supports points conversion via digital gift voucher
Affiliate network agreements with Commission Factory, APD Affiliate Network and ICLP Collins with impressive lists of over 100 participating businesses and suppliers.
Business Model
While there are platforms in the market that offer some of the features of the points4purpose platform, there is no solution in the market that directly competes with the scale and scope of points4purpose offering. We have enabled redemptions of points and cash donations in this case, providing the donor with access to over 2,500 causes.

Revenue Model
BRewarded's current revenue is sourced from the sale of BRewarded points to a merchant business. The points are sold as a pre-determined percentage of the total merchant sales eg. 1%. BRewarded then deposits 65% of the cash received from the sale to the points account of the customer and retains 35% of the transaction fee charged.
Additional revenue is generated via a $600 set up fee for new merchants and an annual licence fee for merchants of $1,200 and 2,000 points, equivalent to $13, for members. BRewarded also earns commission on products purchased by members.
Through points4purpose, BRewarded Group takes a 10% fee on the money donated, keeping 5% and returning 5% to customers via points or other rewards.
Future products
BRewarded Group will soon launch Liquidity Business Solutions, an innovative Line of Credit SME finance solution to be offered alongside its relationship marketing solutions
Giftcardextras.com, a website comprising leading gift card options for valued point redemption
White label licensing option of both the BR platform for business and the points4purpose platform for charities
Whole of House point of sale marketing providing predictive purchasing incentives for customers and tradies making purchases for building and home improvements.
Terms of the Offer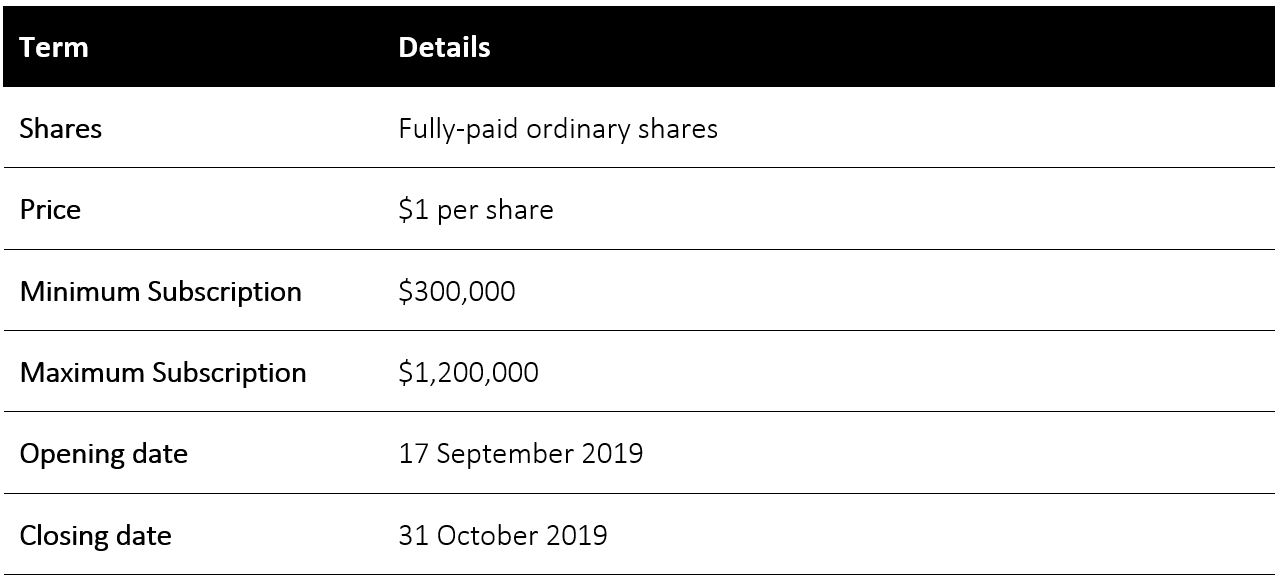 Use of Funds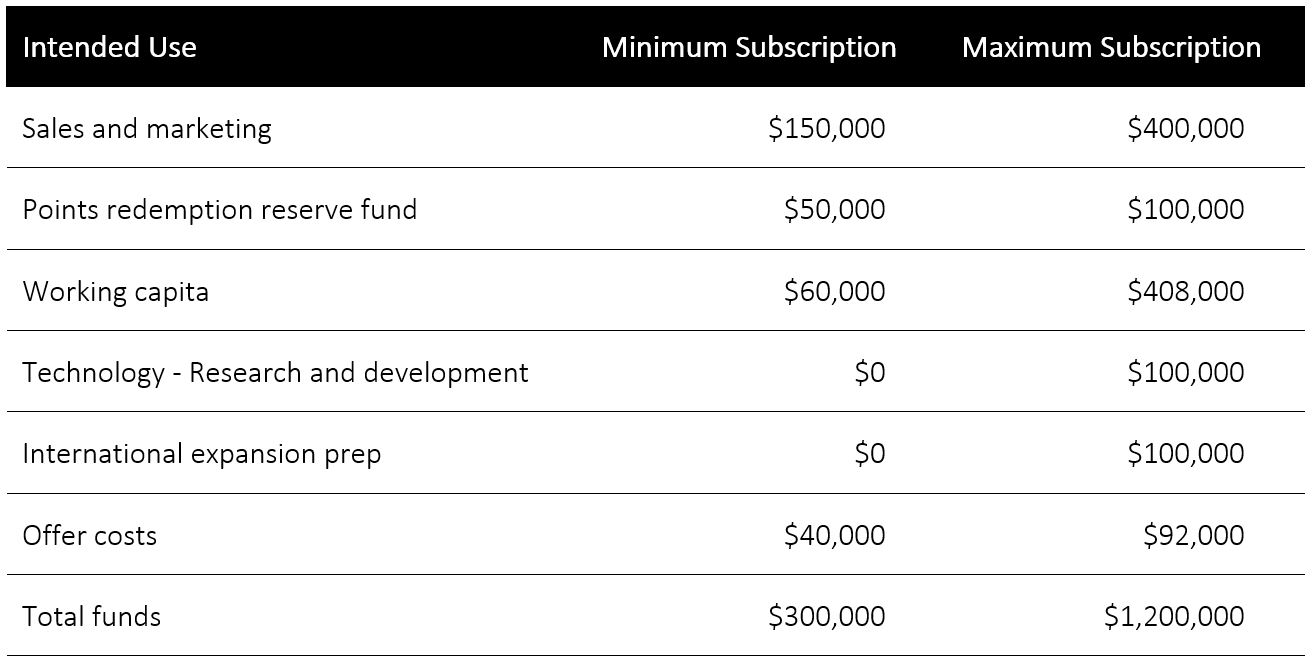 Management & Board
Ivan Schwartz – CEO: Ivan has a Business & Marketing Degree from the University of Technology, Sydney. He has over 20 years' experience in direct marketing across a wide variety of sectors. As a founder and major shareholder of AdvantageCard, he is instrumental in managing the company's diversification into digital applications. Ivan brings his extensive relationship marketing and general management experience to the business.
Stan Zets – Finance Director: Stan was formerly CEO of Expense Reduction Analysts International, where he directed their growth from a mid-tier Sydney based company to over 700 partners across 30 countries and CEO of OptiVance 360 where he was instrumental in the creation and commercialisation of a world-renowned airline Business rewards program. He is a past director of The South African Institute of Chartered Accountants and regional President of that body and its many affiliates. Stan brings his financial and overall general experience to the business.
Alan Branch – Director, Commercial Business Optimisation: Alan admitted as a legal practitioner in 1981 and conducted legal practice and notary public primarily as a commercial lawyer specialising in licensing, joint venture and business expansion activities. Now a director of OptiVance 360 Alan works directly with many businesses to achieve their international expansion across over 20 countries. Alan brings his legal and commercial skills to the business.
Stuart Bidwell – Director and Head of Administration: Stuart qualified as a UK management accountant in 1995 and took various roles in the UK from capital accountant for NTL to project accountant for Toshiba. Since 2003 Stuart has been operating Oxygen Bookkeeping in Sydney, primarily offering compliance services with the option of CFO services for clients who want to grow their business. Stuart brings his significant operational and administrative skills to the business.
Risks
Early-stage risk - The reconstructed Company has a limited operating history and is not yet profitable. The commercial success of the business will depend on many factors, including management's ability to influence corporations to embrace new technologies in customer acquisition and retention and to also acknowledge charity as a tool for acquisition and retention of customers.
Capital risk - The Company's current cash reserves (plus the net proceeds of the Offer if only the minimum subscription is achieved) may not be adequate to support its funding requirements beyond the next 1-2 years. The Company may need to obtain additional funding to continue operations and execute its business strategy. We cannot guarantee the availability of funds in the future, or that the funds will be available on favourable terms. If we are unable to raise these funds, it could adversely impact the Company's business and prospects.
Competition Risk - Existing loyalty industry is dominated by major brands who have limitless budget to influence consumerism. Resistance from major institutions and loyalty industry majors to embrace social cause as part of corporate policy resulting in barriers to entry.
The Offer is subject to a Maximum Subscription amount of $1,200,000. If the Maximum Subscription is reached, the Offer will close early. Applications will be treated on a time priority basis and may be subject to scale back, so please fund your application as soon as possible.
* 6% Equity: the equity value is in relation to the outstanding ordinary shares of the Company. The Company also has preference shares on issue. See 2.10.1 in the Offer Document for complete capital structure
IMPORTANT: Please read the below information before investing in this Equity Crowdfunding offer.
RISK WARNING: Crowd-sourced funding is risky. Issuers using this facility include new or rapidly growing ventures. Investment in these types of ventures is speculative and carries high risks. You may lose your entire investment, and you should be in a position to bear this risk without undue hardship. Even if the company is successful, the value of your investment and any return on the investment could be reduced if the company issues more shares. Your investment is unlikely to be liquid. This means you are unlikely to be able to sell your shares quickly or at all if you need the money or decide that this investment is not right for you.
Even though you have remedies for misleading statements in the replacement offer document or misconduct by the company, you may have difficulty recovering your money. There are rules for handling your money. However, if your money is handled inappropriately or the person operating this platform becomes insolvent, you may have difficulty recovering your money. Ask questions, read all information given carefully, and seek independent financial advice before committing yourself to any investment.
5 DAY COOLING OFF PERIOD: There is a 5 business day cooling off period for retail investors. During this period, you may withdraw your application and receive a full refund into your nominated refund account. Please note: After the 5 day cooling off period has expired, you will be unable to withdraw your application. More information here.
ONMARKET FEES: Upon successful completion of the Offer, a maximum fee of 6% of the funds raised will be paid to OnMarket by the Company.
ONMARKET INTERESTS: OnMarket and its associates may be participating in this offer.
ONMARKET INTERESTS AND AMOUNTS SUBJECT TO COOLING OFF: The funding bar displayed under each crowd funding offer may include applications where payments are yet to be made and amounts that are subject to the cooling off period.
Section 734(6) disclosure: The issuer of the securities is BRewarded Group Pty Limited ACN 634 772 642. The securities to be issued are fully-paid ordinary shares. The disclosure document for the offer can be obtained by clicking on the link above. The offers of the securities are made in, or accompanied by, a copy of the disclosure document. Investors should consider the disclosure document in deciding whether to acquire the securities. Anyone who wants to acquire the securities will need to complete the application form that will be in or will accompany the disclosure document (which can be done via the electronic application form which will become available by clicking the bid button above).​
.