Highlights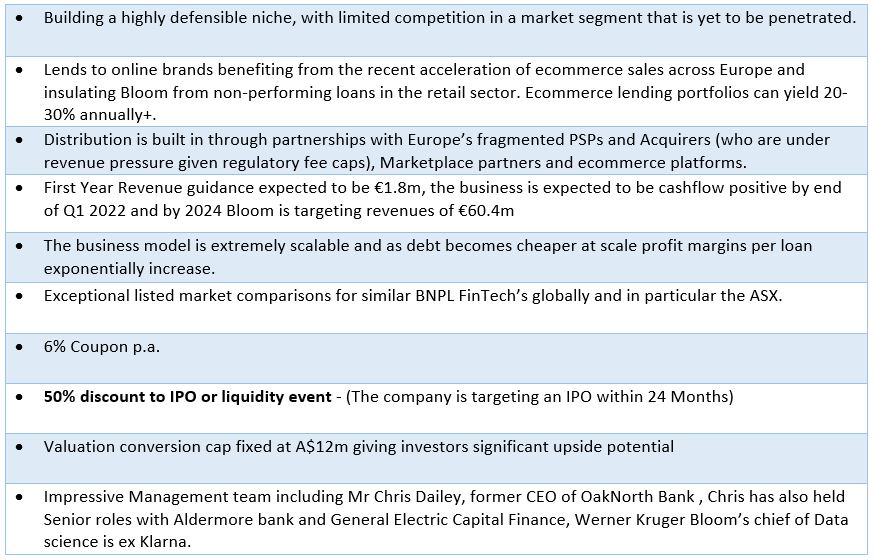 Introduction
Bloom Financial Group Ltd are building a highly defensible niche, with limited competition in a market segment that is yet to be penetrated. Bloom lends to online brands benefiting from the recent acceleration of ecommerce sales across Europe and insulating Bloom from non-performing loans in the retail sector. Ecommerce lending portfolios can yield 20 20-30 %.
Distribution is built in through partnerships with Europe's fragmented PSPs and Acquirers (who are under revenue pressure given regulatory fee caps), Marketplace partners and ecommerce platforms. The Board believe that the existing pipeline of partners gives access to enough revenue opportunity to deliver the first 2-3 years of the plan. To hit year five, Bloom only need reach 4% of their target market.
Bloom are targeting small and mid sized ecommerce merchants with revenues <10M EUR and small businesses selling through market places and directly on web platform. They plan to expand over time to larger merchant profiles in line with cost of funding.
The UK to be outpaced in terms of growth rate by 9 EU countries as market grows (Spain, Portugal, Finland, Sweden, Netherlands, Italy, Czech Republic).