Problem
From 1990 to 2016 the world lost over 1.3 million square kilometres of forest, an area larger than South Africa.
30 billion trees are lost to deforestation per annum and approximately 14 billion of these trees are lost forever due to devastating wildfires, exponential agricultural growth, forestry and urbanisation. This leads to approximately 120 million tonnes of lost carbon sequestration every year – the equivalent carbon footprint of 100 Boeing 747s flying non-stop for 43 years.
Current reforestation methods are expensive and slow with seedlings grown in nursery environments for up to 1 year before being transported and manually planted. This process of manual plantation allows for only 800 seedlings a day/planter and is a major contributor to the 14 billion trees that are unable to be reforested.
Solution
AirSeed Technologies has developed the solution, providing reforestation through Drone Technology, Artificial and Data Driven Intelligence.
AirSeed Technologies provides a global, scaleable reforestation solution that is 95% faster and 65-75% cheaper than traditional hand planting methods. Through artificial intelligence and data collection, AirSeed Technologies is able to track the location of each individual seed and monitor the progress of the entire reforestation project.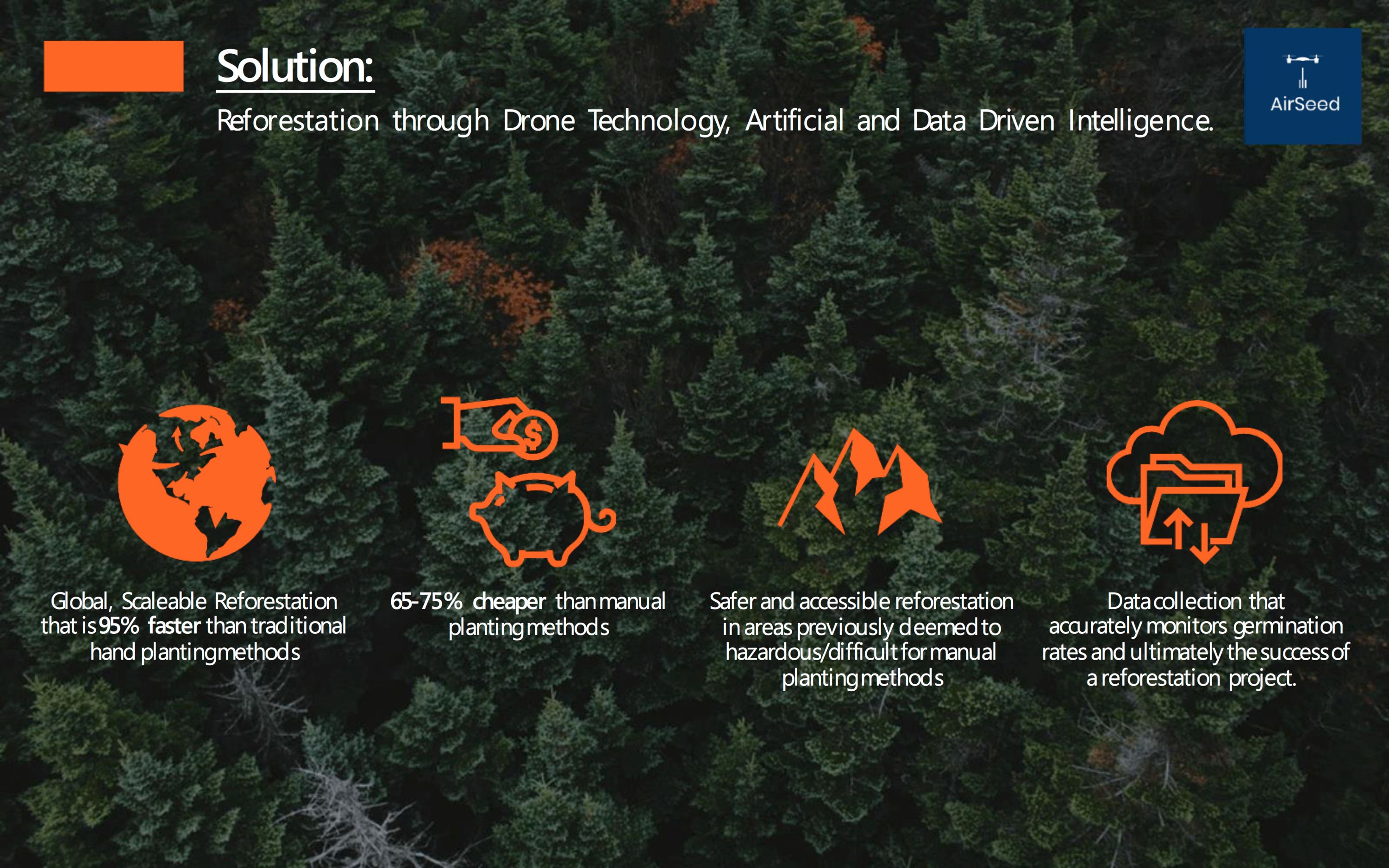 Market Opportunity
The current market for reforestation is significant, estimated at over US$7 billion every year, and the global movement to restore our world by reducing carbon emissions is only growing stronger.
Australia has a project in place to plant 20 million trees by 2020, African nations have committed to reforesting 100 million hectares of land, and the UN Sustainable Development Goals have committed US$10.2 billion p.a. towards reforestation.
With government commitments and over 10 million hectares of deforestation every year throughout Africa, Oceania and South East Asia, AirSeed Technologies is strategically placed to capitalise on this opportunity.
AirSeed Technologies has already begun replanting our forests, undertaking a paid trial with one of the world's leading food and agri-business companies, Olam International, to plant over 500,000 trees. If the trial is successful, AirSeed Technologies will conduct a commercial project with Olam to plant 200 million trees throughout Africa resulting in significant revenue over the next 5 years.
AirSeed Technologies are also in negotiations with another 5 major corporates for trials throughout Africa and Australasia.
AirSeed Technologies is on a mission to plant 100 million trees per year by 2023 and now you have the opportunity to own part of the company and help reduce our global carbon footprint.
Before investing please consider the offer document and general risk warning.
If you are interested in owning shares in AirSeed Technologies Pty Ltd register your interest.