GigSuper Equity Crowdfunding Case Study
07 October 2021 @ 12:00AM Equity Crowdfunding: Case Studies
Self-employed Australians retire with 50-70% than traditionally employed Australians. Why? Because 'BigSuper' doesn't support the niche needs of self-employed Australians – a work force which has exploded (consider; drivers, freelancers, tradies, side-hustlers, etc). The issue lies within 'Big Super' assuming its members are employees and super contributions are guaranteed by employers. However, this is not the case.
To aid the 2.2M (and growing) self-employed Australians, GigSuper has created the first purpose-built fund that makes it easy for self-employed members to pay themselves super.
GigSuper have developed an easy-to-use web-app that empowers users to automate weekly transfers to their super, because you shouldn't need to be a finance expert to do super properly when you're self-employed. Features of the app include:
Automated contributions
Ability to withdraw savings if necessary
Automated claiming of tax deductions
Full tax benefit with no paperwork required

GigSuper is the only super fund built specifically for self-employed Australians, helping them to finally get their retirement savings sorted.
Lauren Button, Company Advisor at GigSuper
To learn more about their business model, click on the button below to watch their 'Questions from the Crowd' interview!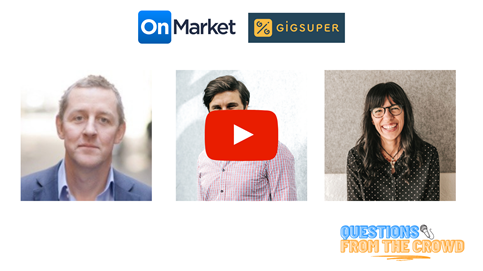 A quick campaign recap!

From the beginning of their campaign, GigSuper's mission to help self-employed Australians resonated with OnMarket investors and the wider public. GigSuper was even featured on Channel 9 News!
Throughout the campaign, they maintained their pace in infiltrating the self-employed community, and begun strategizing partnerships that would aid business growth, as well as help large pools of self-employed individuals. Their determination led to success, with GigSuper & Carpentry Australia (Australia's only trade-based organisation dedicated to the 175,000 builders and carpenters across the country) teaming up to assist builders in using super to buy their first home!
Over the closing months of 2021, GigSuper will demonstrate how the FHSSS can boost savings for a first home by building a deposit inside superannuation, giving them a tax cut. FHSS is The Commonwealth Government's First Home Super Saver Scheme that allows self-employed Australians to save for their first home as well as their retirement.
In comparison to a standard deposit account, the FHSSS could boost deposit savings by more than 30%. GigSuper and Carpentry Australia's collaboration will help self-employed Australians enter the property market quicker and more securely.
GigSuper's increasing awareness and support attracted Steve Kloss, Co-Founder of Caresales (ASX:CAR) and CEO of Constant Innovation, a private equity fund. Steve Kloss has an extensive career in investing and turning great businesses into market leaders. After better understanding GigSuper and their ambitions, he came onboard as an investor, stating:

I've seen a lot of tech start-ups over the course of my career, and GigSuper has all the ingredients for a truly great business that could one day be a household name.
With all the right ingredients, and an abundance of support, GigSuper exceeded their minimum target and closed their campaign successfully.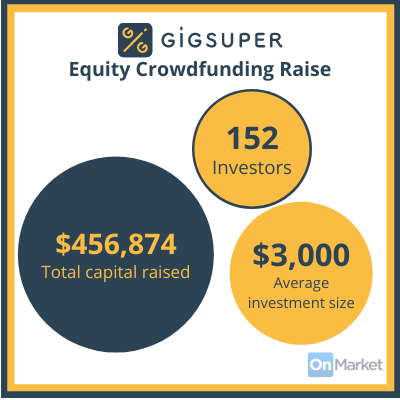 The equity crowdfunding raise has provided GigSuper the support needed to better reach self-employed Australians, increase brand awareness, and improve the retirement situation of many
Lauren Button, Company Advisor at GigSuper
Where to now?

Now that their Equity Crowdfunding campaign is complete, GigSuper's goal is simple – grow, grow, grow!
GigSuper are leveraging their partnership with Carpentry Australia and are prioritising developing new partnerships with large companies who are well established in the self-employed ecosystem.
Another focus is spreading the knowledge of the FHSSS scheme educate self-employed Australians on how to build a deposit within their super and achieve purchasing their first property quicker.
The funds raised from their crowdfund will be put towards digital marketing campaigns and physical networking events that draw large pools of Australians in the self-employed community to raise awareness of GigSuper, and ultimately, assist them in a cleaner, financially stable, path to retirement.

OnMarket and GigSuper partnership

The OnMarket team bring a wealth of knowledge on crowdfunding and how to effectively pitch to investors. The team were highly involved throughout the campaign and made sure we understood each step of the process.
Lauren Button, Company Advisor at GigSuper

The inside scoop on equity crowdfunding as a capital raising method!

Whether you're an investor or Australian business seeking growth capital, there's nothing better than learning about capital raising methods than from those who have delved in and had first-hand experience! Here's what GigSuper has to say:
One major benefit of crowdfunding is getting your brand out there to thousands of people. It's also valuable to create an army of investors who will now help spread brand awareness and encourage the business to grow. Crowdfunding has helped us to tap into a pool of investors and advocates we wouldn't have otherwise had access to.
Lauren Button, Company Advisor at GigSuper

And that's a wrap…for now!

OnMarket has immensely enjoyed working with GigSuper and are eager to follow their growth journey.