Case Study: TetraMed flying high after successfully completing equity crowdfunding offer via OnMarket
05 March 2020 @ 12:00AM Equity Crowdfunding: Case Studies
Key Takeaways
Vertically-integrated medicinal cannabis company Tetramed has successfully completed its equity crowdfunding offer via OnMarket.
The Australian company, cultivating and processing their cannabis in the small African nation of Lesotho, raised $398,000. The offer received strong early support, reaching the minimum in just the second week of the public offer which generated significant momentum in the early stages of the raise.
It was clear that the opportunity for equity in a growing cannabis company at such an early stage, pre-IPO, was an attractive investment drawcard. In the final week of the offer, $179,000 of funded bids came through from 119 investors.
The power of the OnMarket crowd was once again highlighted with 181 bids coming in under $2,000, representing 33% of the capital raised. The lower minimum investment parcel, $420, enabled more investors to gain access to the offer and invest in an early stage business in a rapidly growing medicinal cannabis industry.
TetraMed successfully utilised third party databases throughout their campaign to reach a larger group of potential investors. TetraMed's CFO Nick Fiori participated in a live interview conducted for the 8,000 strong ASX Medicinal Cannabis Investors Group whilst the company also featured in the Sydney Morning Herald, creating greater awareness of the raise whilst also validating the opportunity for investors.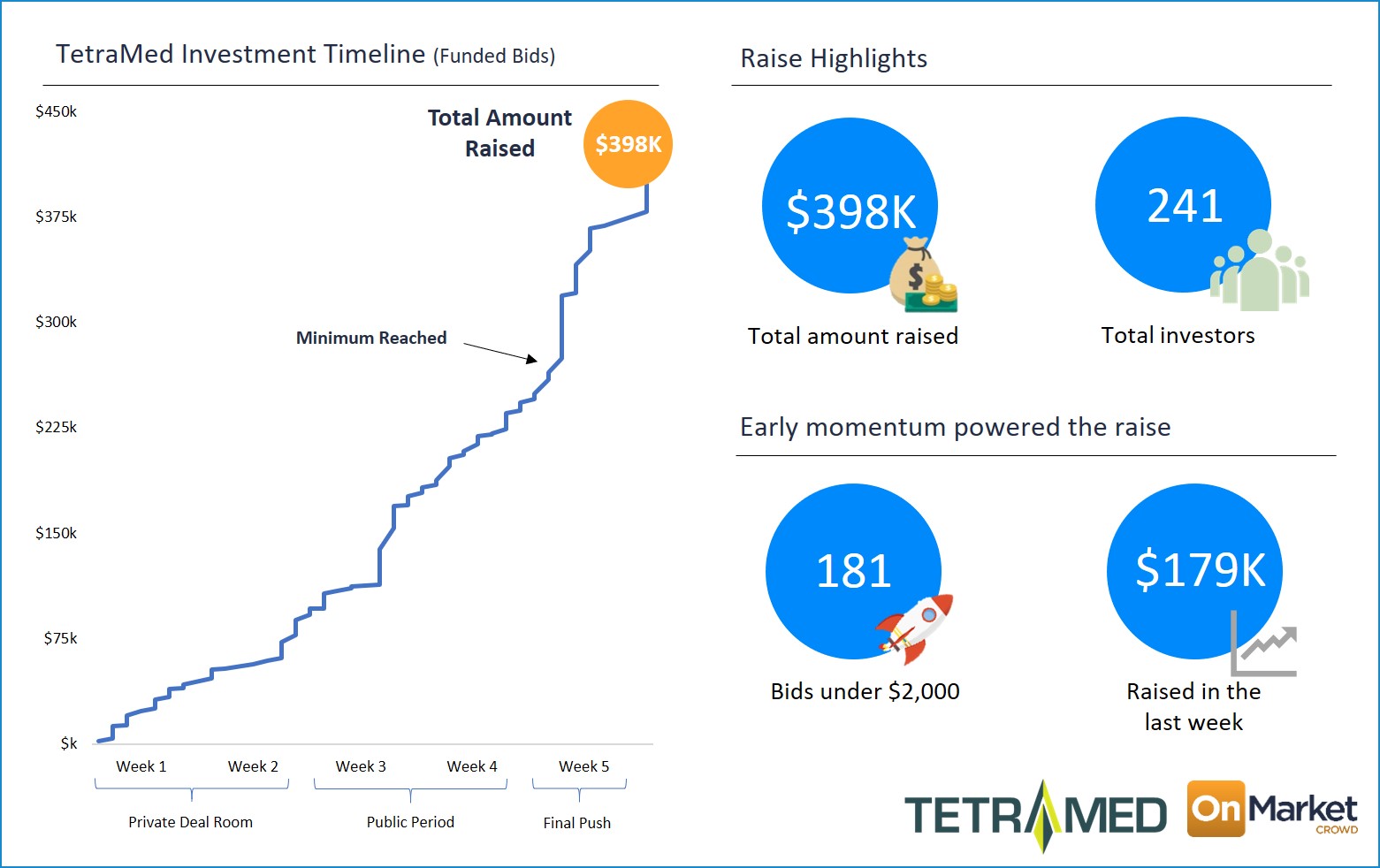 A quick recap of TetraMed
TetraMed is disrupting the medicinal cannabis industry by developing cannabinoid medicine in a tablet form.
Current methods to administer medicinal cannabis require patients to measure out their own dosage and it is typically in the form of an oil, resulting in varying amounts of cannabinoids – the active ingredient in medicinal cannabis – being present in each dose.
TetraMed is developing a cannabinoid tablet so that patients to have a familiar method to administer their medication in an affordable and accessible manner. They will be growing and processing in Lesotho, one of the world's premier regions for cannabis cultivation due to its ideal growing conditions, favourable regulations, low labour costs and supportive infrastructure.
The medicinal cannabis market grew 1000% from 2018 to 2019 and it is estimated that the global market will continue to grow, reaching $27 billion by 2027.
TetraMed plans to become a vertically-integrated medicinal cannabis company providing an end to end operation for medicinal cannabis products.

What now?
TetraMed already have a signed supply agreement for their initial 4-tonne production capacity which will be sold into Europe. They will be using the funds raised from their equity crowdfunding offer to build their production facility, for the development of the cannabinoid dosage form and for general working capital.
They have plans to list on a stock exchange later this year and discussions are already underway.